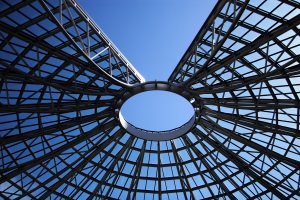 In July of 2012 we began working with a company that designs and manufactures custom fiberglass pipe, large diameter fiberglass ductwork, fiberglass tanks, fiberglass vessels, other equipment and services relating to fiberglass products. This company is a subsidiary of a larger parent company, and for a number of years was content to supply cooling tower components for the parent company's projects. We began working with them because they felt it was time to branch out and had turned to HubSpot and inbound marketing to help them reach new markets.
Like a lot of manufacturing companies, many of the companies within their industry were using very high level, general keywords. Our client, like their competition, was targeting keywords like fiberglass pipe and fiberglass tanks. As you can imagine, the competition for these keywords was fierce, but also broad. If you searched for fiberglass tanks it would return everything from huge industrial tanks to small tanks for animals.
This is something that a lot of the clients we've worked with have seen. Every company has some high level keywords that are pretty standard across their industry. There is nothing wrong with these keywords, and there is nothing inherently wrong with the leads they bring in. But as you can imagine, a lead that comes to a site looking for a fiberglass animal tank isn't much interested in an industrial fiberglass tank for chlorine storage.
The goal, then, is to generate specifically targeted leads.
1. Identify your wheelhouse
The first step in targeted lead generation is to figure out what it is that makes your different. What do you do that your competition doesn't? What do you do better? What makes your clients choose you?
Our fiberglass client, for example, identified their ability to create targeted industrial solutions as one of their strongest points. The fact that they could create very specific, tailored fiberglass solutions made them stand out from their competition.
You need to identify why your clients are your clients, what makes you stand out, because if you can—then you can move onto step two.
2. Generate long tail keywords
Once you know what makes you stand out, you can start creating long tail keywords targeted at leads who need what you offer.
We created keywords for our client like:
• large diameter fiberglass pipe for waste water
• fiberglass storage tanks for HCL storage
The number of people searching for these keywords is, admittedly, low. On the other hand, if you search for a large diameter fiberglass pipe for waste water then you want what our client offers, not a fiberglass tank for your hamster.
3. Create highly targeted content
Step three is creating content focused on those highly targeted keywords. For our fiberglass manufacturing client, we created a number of pieces of content focused very narrowly on a variety of vertical industries and custom solutions. This meant downloads and blog posts that addressed a narrow set of concerns. For example, the long tail keyword fiberglass storage tanks for HCL storage spawned a download and multiple blog posts about specific clients the company had worked with who needed HCL storage tanks. We also created some posts about HCL, its properties, and challenges associated with storing, hauling, and manufacturing.
These pieces of content did a couple of things for our client. First, this content attracted the leads we were specifically targeting. The leads that converted on landing pages for HCL storage tanks were actually looking for information about HCL storage tanks — no more lost pet store searches! Second, these pieces of content really helped to build our client's credibility. The content we were helping our client create was highly specialized and, a lot of the time, technical. Content like that really resonates with the target buyers in this industry and generated high quality leads.
4. Fill in the blanks
All of the work you've done to get through steps one through three isn't going to get you very far if you neglect all the other aspects of inbound marketing. So step four is doing all of the other bits that make an inbound marketing strategy work.
Without getting into too much detail, that means creating conversion opportunities, landing pages, maintain and engaging in social media, lead nurturing, the works. You're only going to be able to engage in targeted lead generation if you have the internal resources and structure to support it.
Inbound marketing finally gives industrial marketers the tools to target specific targets that match their ideal customer persona. We can stop casting a wide net and hoping to catch a few fish and focus on finding and attracting the right prospects.
About the Author: Todd Hockenberry is the founder of Top Line Results, an inbound marketing agency that specializes in leading top line revenue growth at small and medium-sized companies with a focus on manufacturing, technology and capital equipment.