By now, most marketers and business professionals understand the importance of blogging. Two of the biggest obstacles we've seen that prevent business owners from blogging more frequently are: lack of time and fear of writing.
Here are a couple of simple strategies and tools that let companies tap into the collective expertise within their organization, which can help build a blogging team and create efficiencies in the blogging process. These are also great strategies to help prevent writer's block and burnout.
Our first tip is to leverage an app called Dragon Dictation. In their own words, "Dragon Dictation is an easy-to-use voice recognition application that allows you to easily speak and instantly see your text content for everything from email messages to blog posts on your iPad™, iPhone™ or iPod touch™."
It's up to five times faster than typing on the keyboard!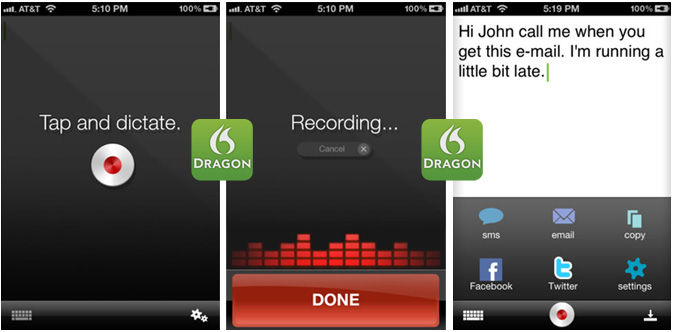 Dragon Dictation features include:
Voice-to-text transcriptions that may be sent as SMS, email, or pasted into any application using the clipboard
Submit text to social networking applications – Twitter and Facebook
Convenient editing feature that provides a list of suggested words
Voice-driven correction interface
At Stream Creative, we use this app. In fact, the outline of this blog post was created on my commute using Dragon Dictation. After dictating the outline, I emailed the draft to myself and cleaned it up for posting. It's a great way to make the most of travel/commute time (just make sure your focus is still on driving!).
We've found Dragon Dictation to be very accurate. You do need to speak a bit slower than normal. It works best if you only speak 2-3 sentences at a time and then pause to let the app render the results. Check it out for yourself and let us know what you think!
The second tip is to arrange brief meetings or phone calls with your internal experts (e.g. sales team, customer service reps, etc.). Keep the meetings short (max of 30 minutes). Develop a list of questions that you can send to the person being interviewed ahead of time.
Use your laptop or smartphone to record the interview session. Be sure to get their permission before recording the session. We use GarageBand on our MacBook Pro. We've found that these simple conversations can provide plenty of great content for blog posts. The people being interviewed are happy (and flattered) to share their knowledge.
On the flip side, asking those same professionals to write a blog post for the company blog would've created some mixed feelings. Let's face it, no one wants more things added to their already full plates. By using the techniques outlined in this article, we're getting the same information but via a method that doesn't create friction.
What tools, tips or strategies do you use in your blogging efforts? What have you found to be a successful for getting others to contribute to your blog?
About the Author: Jeff Coon is a partner and creative director of Stream Creative, a certified HubSpot partner and full service digital marketing and design firm specializing in inbound marketing, web design and development, and social media.