People consume online content via three screens: desktop, mobile phone and tablet. Given the proliferation of each, marketers should build their programs to accommodate all three. Consider the statistics:
That said, consumers interact with each device differently, and screen dimensions play a large role in preferred content, layout and presentation. So, how can marketers ensure that their content is in the proper format—regardless of how it's being accessed?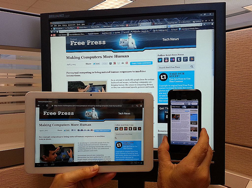 Google recommends responsive design, in which the site detects the device and size of screen, and then automatically sizes the content to fit. For a quick overview, check out What the Heck is Responsive Design? by John Polacek (@johnpolacek), or these examples of responsive design in action from the Disney Store, Boston Globe and more.
Another option, although less preferred, is to have a separate mobile website with its own URLs. In the words of my PR 20/20 colleagues in Do I Need a Mobile Website, "if you aren't debating whether to launch a mobile version of your website, you might want to start." They recommend assessing your site analytics and overall user experience to make a case.
But, What's Next?
As Pete Cashmore (@mashable) detailed in the Mashable Variety Show at SXSW, the number of screens people use to access information is only going to increase. Screens are going to get smaller, larger, on our bodies, etc. A few examples he shared include:
While many of these technologies are just in the prototype phases, the implications they could have on how people consume information and interact with content are profound. As we've seen with smartphones and tablets, this trickles down into how marketers do their jobs.
For me, innovations like these reaffirm my belief that technology and marketing are only going to become more intertwined. It's up to us to stay abreast of the trends, evaluate implications on marketing strategy and adapt.
What strategies are you using to succeed in the era of multiple screens? What tech innovations have you seen that that could disrupt how people communicate? Share your thoughts in the comments below.
About the Author: Tracy Lewis is an inbound marketing consultant with PR 20/20, a certified Gold HubSpot partner and inbound marketing agency that combines content, public relations, social media and search marketing into integrated campaigns. She is also the community manager for Marketing Agency Insider, the hub for agency news, information and resources.
Image Source: IntelFreePress