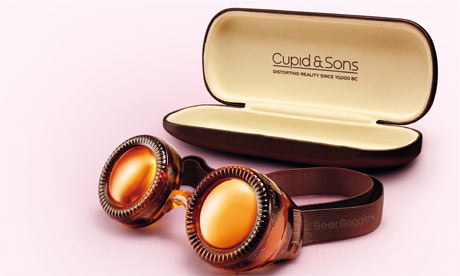 You don't want your prospects to need these to make your site experience better!
The first "first impression" happens when a visitor finds you online. More often than not the first impression your company makes takes place far from any representatives of your business. Not that long ago you could control your first impression — a perfectly staged trade show booth, a well researched phone call, an amazing sales pitch. Nowadays you still have opportunities to make great impressions, but more often than not the first impression happens without you even knowing it.
Back in my days as an EVP Sales & Marketing at a manufacturing company, we always tried our best to get requested test samples back to a prospect as fast as possible. We were a small company playing with some big competitors and we figured if we got our stuff back to them first, we would set the table for everyone else.
If our samples were high quality, correct to the specifications, and the first in the door, then we had the upper hand. Everyone else was now measured against our quick response and quality work. Whenever we conducted a win analysis with our customers, this first impression was often cited as a critical reason why our company was chosen.
That was few short years ago and while the idea of making the first impression still holds, it now relates to what your prospects see before they ever call you.
For you manufacturers and industrial B2B companies out there, I am talking to you.
There are a lot of examples of great websites, but so often industrial and manufacturing companies websites are examples of what not to do. I've seen many manufacturing websites that look like a glorified business card or catalog, but in today's business climate that just doesn't cut it anymore.
Your buyers are turning to the Internet for answers long before they reach out to you. Between online directories, social media, and stellar web content — it's no wonder that the first place consumers turn for a solution is a search engine. Inbound marketing principles are gaining traction, content marketing is becoming a standard marketing activity, and more and more companies are spending their money on building great sites that attract the best prospects.
Making the First Impression Count
If the first thing that your prospects are going to see about you is your website, you need to make it count. To make sure our clients' sites are packing a punch, we start with a simple checklist to make sure the basics are covered. Once you've nailed down the basics you can worry about the details.
1) Great Images - people are visual and becoming more so every day. Make all of your images top quality, focused on your solutions, and please stop using those stock images (see the lady with the headset on supposedly depicting someone's customer service).
2) Statement of Value - who are you, what do you do, and who do you do it for. Do not use marketing mumbo jumbo words like 'world class' or 'top quality.' Say what you do plainly and clearly. This makes a strong first impression and sets the tone for the rest of your interactions with a visitor.
3) Compelling Offer - give way your knowledge, show that you care about them and now what issues are relevant to them by sharing something of value to them, not to you (your catalog does not count as interesting or valuable).
4) Call To Action (CTA) and Landing Pages - put high quality offers behind landing pages and attract visitors to them by using compelling calls to action. This step alone has generated an outsized level of value for our clients by taking existing content assets and requiring a conversion on a landing page to get them.
5) Sharing Options - make it easy for your site visitors to share your awesomeness with others. Enough said.
6) Easy Ways to Connect - e-mail, blog updates, social media, phone calls. Give your visitors as many ways to connect with you as possible.
7) Reasons to Dig Deeper - add interest to your site by having a varied approach to content so that the first impression is of a company that has something to say and is worth investigating further.
The first "first impression" is the one you do not even know you are making or when it will happen. Make sure you set your company apart by leaving an impression that keeps them coming back for more.
Beer Goggles Image Credit: Guardian UK