The Inbound Marketing Panacea
"Content marketing is so freakin' awesome it will actually take your company over for you and run it better than you can!"
About tired of that sort of inane promotion? I am.
Most folks reading this have bought into the value of inbound marketing. It really is a remarkable evolution in the practice of marketing. It has transformative functional and financial benefits. And the evolution it is forcing has created substantial changes and opportunities in organizations - not only within the marketing orb.
While sales isn't going away, it has to adapt
. And while companies would be crazy to forgo their hard won domestic business, they now have
amazing global opportunities created through their inbound marketing
.
But it doesn't fundamentally change your business model and it doesn't solve half the problems some claim. But what if.......
What if Inbound Marketing could support product marketing and R&D?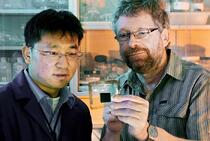 Sound nuts? Well that's precisely what Beth Comstock, GE's CMO says they are intent on doing. In a
recent interview with Think with Google
she spoke of the marketer's role in "connecting the dots" and said "When you're in this business, you see a lot of things, marketers are in a great position to notice if something's happening in an industry."
Comstock added "Marketing is now about creating and developing new markets; not just identifying opportunities but also making them happen."
So you don't have the staff of 5,000 marketers that she has at her disposal - but you do have an incredible equalizing tool. The power of your content.
Pinpoints of light
I guarantee there are applications that you've never considered. That's one of the benefits of global sales that we often discuss. Put your product in a different environment and it's amazing to observe the new uses which people will naturally discover.
And that's with your product in its standard form. But beyond that, somewhere out there are 5, 25 maybe hundreds of enterprising, entrepreneurial folks who are discouraged — they're slaving over products they have invented and are refining but they can't get them quite right. They're missing the secret sauce of your enabling technology.
And even with an army of 5,000 you're not going to find them. So you have a choice — go about your business every day ignorant of the opportunities which you're foregoing, or figure out how to leverage the tools that content and inbound marketing provide.
Will this approach double your company with a deluge of license or resale revenue? Probably not. But wouldn't some be awesome? Revenue without the operational hassles? And are there caveats? Sure. There is your IP to protect — you're not going to lay it all out in your content.
But if you start to incorporate pieces into your editorial calendar (posts about related technologies, participation in different LinkedIn groups, webinars about how your technology has enabled others, etc.) all optimized for an appropriate category of search terms, you'll find an interesting crop of developmental leads to harvest.
The key is to see content, your content promotion and inbound marketing efforts in the larger context. It should be simply being more efficient at finding more of the same — it's about being easy to be found by the folks who should find you, whether you know them or not.
And be open to discussing new applications, uses and opportunities. Don't just reflexively reply "that's not what we do."
About the Author: Ed Marsh is co-founder of Consilium Global Business Advisors, an international marketing consulting agency focused on developing strategic global business development and channel programs.