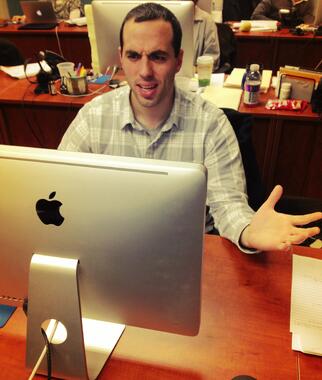 On the heels of a new year, there are two things you can almost always count on;
Ryan Seacrest's ear muffs on "Dick Clark's New Years Rockin' Eve."
A plethora of blog articles detailing where marketing is going.
The latter is in full swing as we speak, with pretty much every marketing blog in the western world providing insider information on where you should expect to allocate your marketing budget in the coming year.
I'm here to tell you that this blog is really no different. However, rather than forecast my opinion, I'm going to base where I think email marketing is headed based on the changes I'm seeing right now.
With the consumer shift to digital and mobile devices, it's no secret that marketing is transitioning to a more personalized, segmented approach. The days of blasting offers or information to your entire contact list are gone. Included below are the five most common email marketing techniques of "yester-year" that will be rendered ineffective in 2013.
5 Email Marketing Blunders that Lead to Unsubscribes
1. Too Many Emails
The line between too little and too many is often very hard to decipher. As a marketer myself, I often feel if I'm not consistently engaging my contact list, I'll fall from their consciousness.
However, you have to give your contact a little bit more credit. They've already engaged with your website and obviously thought you valuable enough to subscribe too. The challenge now? Don't make them regret their decision. (As I've often done with brands I used to subscribe to.)
This is why segmenting your contacts is so critical (more on that in a bit). It ensures you're not bombarding the same people with emails three times a week. Give them time to digest the content or information you've sent them. If you find yourself trigger happy, utilize HubSpot workflows which will let you send automated, yet personalized emails at your desired schedule.
This way...no one forgets about each other. After all, it's much better to remind someone of your brand than to lose them altogether.
2. No Segmentation
Walk into every store, and you'll see several types of prospects:
Those browsing
Those comparing products/talking with salesmen
Those standing in line with a basket of products
Now obviously, you wouldn't trample the "browser" who just entered your store with a "let's talk price" type pitch. Why? Because you'd be generalizing all of your customers into one 'stage of the buying cycle', effectively losing most of them.
So why would you practice this with your email marketing? It simply doesn't make sense to blast out emails to your entire contact list anymore (unless it's a huge sale or company news). Segment your leads into categories.
Those leads who downloaded your offer on social media engagement? Perhaps they would be interested on your new whitepaper detailing brand awareness using Twitter. Those that viewed your case study and pricing page might respond to an 'free consultation' offer.
Simply give them what they want. Don't generalize.
3. Overly Salesy
Simply put: don't go all "used-car salesmen" on your email recipients. Consumers have become so accustomed to digesting content quickly with the advent of smart phones and tablets, that they're also fine-tuned to delete "spammy" sounding emails.
Avoid words like:
Free
Act now
Hurry!
Instant savings
Anything with exclamation points!!!!!!!
Your contacts have already taken an interest in your product/service. Once again, don't screw it up and make them regret this. Instead of pitching and upselling your entire service, convey the value of your product or service and how they can benefit.
Bottom line: forget about yourself...make it about them.
4. No Value Conveyed
Building off that last thought, your emails should focus on the benefits of what you're offering, rather than the features of it.
While they may sound one and the same, spending too much time blowing your horn and the features you're offering will turn people off. You know what they really want to know? How it's going to help them.
So tell them.
Why do they need this offer? How will they benefit? What will they learn?
To keep the focus on the consumer, it helps to keep them focusing inward — putting the wheels in motion for change and improvement. If all they're thinking about is how arrogant and great you say you are, where's the potential for reflection?
5. Not Tracking & Measuring Performance
You know all that time you spent searching for the right image to include in your email? Turns out, it didn't make much difference. No one clicked in the email anyway.
So what was the problem? Your perfect image, or your content?
Ensure you're not spending too much time on things that hold no significance to the bottom line (opens and clicks) otherwise you'll be wasting time and resources.
Every email sent should be tracked and measured to determine what went right, and what could have been done better. If you don't, you're leaving the door open to the possibility that the one thing that's annoying readers and leading to unsubscribes will go unchanged.
What's Next?
While it's impossible to tell what's coming, it's certainly easy to see what's happening right now. And consumers have responded. They want what's relevant to them. Anything else will wind up in the trash.
Learn how to turn these tips into real results with "The Fast Track to Powerful Emails."
About the Author: John Bonini is the marketing manager of IMPACT Branding & Design, an inbound marketing agency focused on creating powerful marketing campaigns that deliver results.