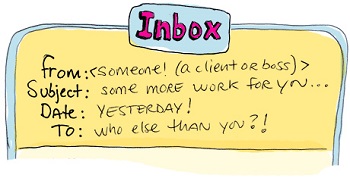 Late last week, I found myself with 114 new emails in my inbox. Not unusual, but not wonderful to wake up to. But there was one that really caught my eye. The email was from J.Crew, and the subject line read, "Easiest wedding ever – two steps to the perfect bridal party." As a recently engaged bride-to-be, knee deep in wedding planning mode, my curiosity took over and I opened the email.
This was the only email of the bunch I opened. And I am sure I don't need to tell you what happened to the remaining 113 (insert evil laugh here).
So what made that email so unique it avoided the dreaded trash folder? Well it just so happens that earlier this week I was perusing the bridal gowns and bridesmaid's dresses on Jcrew.com. Unlike the other 113 emails that were offering free shipping, half off pants, BOGO sweaters and gosh knows what else, J.Crew used behavioral intelligence to develop a message that really resonated with me. Sure it's much easier to create one-size-fits-all emails, but easier does not always equate to the best results.
While most marketers agree email personalization is important, not many companies today are leveraging the power of personalization. In fact, according to the 2013 Experian Digital Marketer Report, 70 percent of brands are not personalizing emails sent to their subscribers.
For those companies that take the extra step of creating personalized campaigns, the results speak for themselves. Here are a few more interesting statistics from the report.
Personalized promotional emails had a 29 percent higher unique open rate and 41 percent higher unique click rate compared to non-personalized emails
Personalized triggered emails had a 25 percent higher unique open rate and a 51 percent higher click rate
Personalized emails generate transaction rates and revenue per email that is more than six times higher than non-personalized emails
With the tools available to marketers today, creating a personalized experience for your audience in well within your reach. Personalization is much more than including the person's first name in the subject line or body copy. A truly personal email speaks to the subscriber's pain points, preferences, fears and stage within the buying cycle.
Developing buyer personas is a great way to uncover a potential buyer's preferences, pain points, fears, etc. Targeting smaller subsets rather than blasting your entire audience with a generic offer often increases engagement rate and, in turn, conversions.
Remember simpler is not always better. Is your company part of the 70 percent underutilizing the power personalization?
---
Shannon Fuldauer has a B2B and B2C eCommerce Marketing background including roles as Vice President of Marketing & Sales Support, and subsequently Vice President of Public Relations & SEO Services, for CareerBoard.com. She has expertise in digital marketing and advanced email communications.
---
photo credit:
m-c