In my last post, I talked about how to convince your salespeople to help you create content for inbound marketing by showing them that they are already creating engaging content every day. The deep connections between salespeople and prospects mean that salespeople are often the best people to understand what messages resonate with customers and what questions customers want answered. Once you've gotten great content out of salespeople, your next step is delivering that content in the best way possible.
Create Highly Focused Customer Centric Content
The content that salespeople create is highly customer-focused and has great potential to convert into prospects. However, when customer-focused content is paired with interesting calls to action and landing pages then you see those prospects become leads. Landing pages themselves may not interest salespeople that much but what comes from them certainly does. The formula is simple — the sales team helps create the right content for target prospects. Calls to action and landing pages bring in what the sales team needs — qualified leads.
The job of a landing page is, at its simplest, to connect content with visitors and convert them to leads. However, a landing page can do a lot more than deliver some well-crafted content to the right audience. If salespeople are helping shape and craft excellent content that is being released through a landing page created by someone in marketing, the landing page then serves as a point of connection between the sales team and the marketing team. Landing pages can also be leveraged to drive traffic from a site, or part of a site, that was generating little or no traffic before.
Increase Incoming Leads Quickly
For example, one of my clients had the fairly standard "Contact Us" form on a simple landing page. There isn't anything wrong with a Contact Us page, but in this client's case that form wasn't creating any leads for them. We came in and took some of the content already on their site, made it into downloadable content, attached the content to landing pages, and then added calls to action across their site. Adding landing pages as gate keepers to content that was already there resulted in a lot of leads very quickly. This client increased leads per month from the website from 0 to over 60 just by adding a few basic offers and landing pages to the site.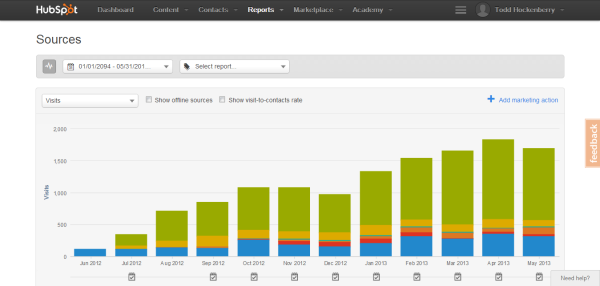 Not all landing pages are created equal, however. To get the most out of a landing page you should shape them around the same kinds of customer-centered thinking that drives good content. Great content is driven by a persona and is focused on their issues, needs, interests, and problems. The landing page that you build in front of that content should be just as shaped by that persona as the content itself was.
Qualify, Qualify, Qualify Those Leads
Having targeted landing pages in front of your customer-focused content is how you create leads that are more qualified. Qualified leads, in turn, allow salespeople to follow up at a much higher level. This is why it is so important to understand your target persona and to create the best, most focused content for them.
Beyond that, however, the form on your landing page represents an amazing tool for lead segmentation. You have a great piece of content that prospects want to get to, so make them answer a few basic questions first. By adding a few segmenting questions into your landing page form, you can get your leads to self-qualify and help drive them further into the sales funnel. Ask them what their job title is, what their biggest problem is, what their main goal is, budget, when they need a solution – be creative and see if you can actually interest the prospect because you're asking the same questions they are asking themselves. The more answers you get, the better the lead is qualified. Now sales can start the conversation at a much higher level.
One of our clients grew their business 86% in the first year of working with us. They generated this significant increase while doing fewer proposals than the previous year. This was a big deal because they are a small company and doing a proposal is a big time investment. By segmenting leads using landing pages they were able to sort the best leads from the top of the funnel inquiries and spend their time closing sales, not writing proposals.
I love this success story because it reminds me of something one of my first sales bosses said to me. He asked me how things were going and I responded with something like "I am doing great, I did 14 quotes and made 43 calls." His response? "We don't sell quotes here, son."
Landing Pages For Testing Ideas
Finally, landing pages are a great way for sales people to test the interest in a given market for a new offering or to test new positioning for a product/service. If the idea behind the call to action and landing page converts, then sales can assume that the offer has some legs. A landing page is a very easy, inexpensive way to perform a litmus test that tells sales whether or not they should promote a new idea in their direct calls and selling.
One of the ways we have used this technique to test the waters for a client was to offer engineering documents (drawings, specifications, test results) on landing pages to see who would convert and download them. My client had purchased a series of product lines and did not know everyone who had previously purchased the products. These old customers found the landing pages and converted. Sales now had a reason to talk to these leads and an insight into their business. The leads that converted showed that there was interest and demand for after sale support and proved that these documents could be used to attract new contacts previously unknown to sales. The conversions on our test landing pages put sales into a position to deliver more value and make more sales.
Creating great content is always going to be the first step, but putting time and effort into landing pages is essential. What's more, the time and effort you put into landing pages pays serious dividends. Whether you need to do some quick market research for a new product, better qualify your leads, or leverage your website to bring in leads, landing pages can be serious work horses in your inbound marketing campaign.
About the Author: Todd Hockenberry is the founder of Top Line Results, an inbound marketing agency that specializes in leading top line revenue growth at small and medium-sized companies with a focus on manufacturing, technology and capital equipment.