This article is a guest post by Jeff Coon (@milwaukeedesign), a Partner and the Creative Director at Stream Creative (@streamcreative), an inbound marketing firm and Silver HubSpot Certified partner. Jeff recently encountered a small business using 'inbound networking' to generate sales. I asked him to write up the story and share via the Co-Grow blog. Hopefully it inspires all of you inbound networkers...

While vacationing in northern Wisconsin, I took the opportunity to interview the property manager at the resort where we were staying. I interviewed him in order to understand how they're using traditional networking in conjuction with online networking to fill their cottages.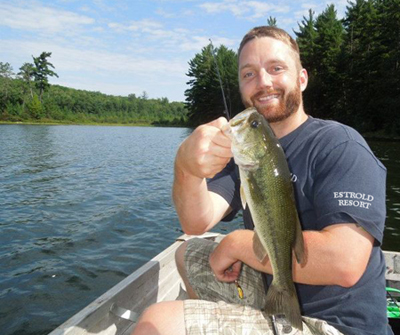 John and Jami Burger have been managing The Estrold Resort located in St. Germain, Wisconsin for over a year. Before that, John was working for Aimbridge Hospitality at the Aloft Hotel in Jacksonville, Florida. Prior to that, John managed several lakefront properties in northern Minnesota, after getting his degree in Hotel and Restaurant Management.
Collaboration with your competition can create business opportunities for everyone. In an industry where you'd think business owners would be competing against each other for guests, John stated that it's just the opposite. "We all share a common goal, and that's to get people to St. Germain, Wisconsin." John regularly refers guests to other resorts when The Estrold Resort is full and other resort owners return the favor. John and Jami support the local Chamber of Commerce, working at local events and helping to promote the St. Germain area. Everything from volunteering at the local Bingo games to participating in the annual "Bikini Run" - a snowmobile race featuring men and women sporting bikinis and battling the winter cold to raise money for local charities. John said that it's these community events that help keep their brand name out there, while giving John and Jami the opportunity to network with local business owners.
In addition to their offline networking, John and Jami are very active in online networking and marketing - specifically Facebook and blogging. The Estrold Resort will soon be publishing their YouTube Channel that will feature virtual tours of their cottages. John recognizes that guests want to see what the cottages and resort have to offer before booking, and these social media sites make that very easy to do at a cost that's more an investment of time than money. Letting your customers create content and market your small business for you In John's words, "We like to create vacation envy." By hosting daily events on the resort for families to participate in, such as a fishing contest, a scavenger hunt, movie night, S'mores night - just to name a few, guests have the opportunity to meet other guests and it creates great photo opportunities for both the guests and for The Estrold Resort. While we were vacationing on the resort, John let me know that he received a call from a Facebook friend of mine. This gentleman saw the photos I was posting on my personal Facebook page, which led him to investigate The Estrold Resort as a potential vacation spot for him and his family. That's social commerce in action! You'll never find John without a digital camera on hand. He's great (and discreet) at capturing moments that showcase all of the great things that happen on the resort. John then posts those photos to The Estrold Resort's Facebook Page, which creates great visual content for guests and potential guests to engage with.
John has generated more leads by co-marketing and blogging with industry partners. Besides showcasing the resort and activities, John also uses their Facebook page to post last minute openings, post snow and fishing reports for outdoor enthusiasts and promote other community events. One of those community events was the "Only Fools Run at Midnight 5K Run/Walk" held in Minocqua, Wisconsin - an event he found out about via the Chamber of Commerce's Facebook Page. John posted a message on the Chamber's Facebook wall letting runners know that The Estrold Resort would pay for the race entry fee for any runner staying at their resort. Within 24 hours, John had someone take him up on his offer. "Covering a race fee in exchange for a weekend booking worked out really well for the resort and came via a marketing channel that was free of charge," stated John. In addition to Facebook, John's wife and business parter Jami, writes for the local snowmobiling blog. On behalf of the resort, John and Jami take photos of the snowmobiling trails and report on the conditions of those trails. The results of their blogging efforts helps drive traffic to their website and increases the resorts brand awareness. "Snowmobilers don't always believe the official snow reports. They want to see what the trails look like first-hand and we show them that and give an honest evaluation of the trail conditions - and the snowmobilers appreciate that" said John.
John and Jami recognize the power that social networking offers and plan to do more of it - including a YouTube Channel, Facebook Ads as well as looking into the adoption rate of LinkedIn in the northwoods of Wisconsin to see if that's a viable option for their business.
John has shifted to marketing his small business online - instead of traditional advertising - to conserve resources. In the past, The Estrold Resort has paid for ads in local print publications but have discontinued some of those efforts due to the lack of response from those investments. John plans to shift those dollars over to online marketing where he can better track and monitor the results. John admits that he could do a better job of tracking the results but with a two-person staff it's sometimes hard to find the time. "When I was working for very large hotel chains, we had a small staff dedicated to this. Now, it's just Jami and I doing everything" laughed John.
This is a reality that most small business owners can relate to. Having limited resources is really one of the main factors in the resort's decision to pick Facebook as their main marketing platform. "It's really easy for me to do a status update or upload a photo to our Facebook page. Much easier than making changes to our website. Plus, it offers a much more engaging experience for our guests" said John.
Online or offline, John credits much of their success to networking and collaboration with local business owners and guests. John sums up their collaboration by saying "You get more bees with honey than vinegar." A sweet message for all small business owners to live by.
How is your business collaborating with other local businesses? What have you found to be successful? Please share your thoughts in the comments section below.