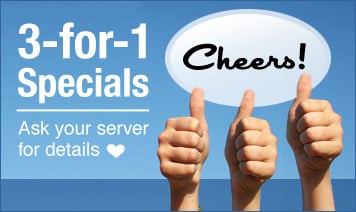 The other day I was at our local watering hole, enjoying its regular "Happy Hour 2-for-1 Special," when it occurred to me that the recent social marketing campaign we helped develop with West Bend Insurance to "Avoid Distracted Driving" was a super mega "3-for-1 special". Because when companies like West Bend support worthy causes, they create this "3-for-1" effect — with values and benefits that are passed along to:
The Cause
The Company
Their Customers (or the general public)
One of West Bend's core principles is to give back to the communities it serves—its employees are very active in the community, so this campaign supported its culture and brand. At Stream, we believe in supporting like-minded companies such as West Bend, so to be a part of a program that offers this kind of value is personally rewarding. And it doesn't hurt that having a "meaningful brand" makes a brand stronger, more engaging and 120% more valuable, according to a study done by Havas Media.
The Campaign
This 5-week campaign, launched through the West Bend Cares program, featured the following content elements:
The Results
West Bend received a lot of positive feedback from their associates, customers and independent agents network. After 5 weeks, the results of the campaign elements listed above have garnered:
1,200+ Page Views
200+ Leads
700+ requests for bracelets
220+ Facebook Likes
65+ LinkedIn Shares
40+ Tweets
This campaign also caught the attention of a national safety organization that will be featuring West Bend and their commitment to promoting safety, recognizing West Bend as a thought leader in this area.
Marketing Takeaway
Businesses should continually look for ways to align their personal passions and company message platforms. In short, find a cause you believe in to support! If you don't currently have one, ask your employees — surely, they'll have one that is near and dear to their heart.
The benefits of social marketing can be:
Increased brand awareness/PR
Increased trust for your company, showing the personal side of your business
A boost in company morale (team-building at its best)
Positioning your firm as a thought leader
A warm fuzzy feeling deep within your soul knowing that you made a difference (and that my friends, is priceless)
In closing, do some good. Leave the world a better place and "Happy Hour" will lead to many Happy Hours for you, your company and your cause.
What causes do you support? How have your efforts resulted in a 3-for-1 special?
---
About the Author: Jeff Coon is a partner and creative director at Stream Creative, a certified HubSpot partner and full service digital marketing and design firm specializing in inbound marketing, web design and development, and social media.