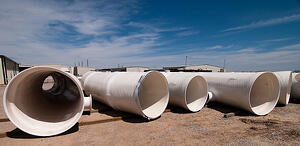 Beetle Plastics, founded in the 1950s, designs and manufactures custom fiberglass pipe, large diameter fiberglass ductwork, fiberglass tanks, fiberglass vessels, other equipment and services relating to fiberglass products.
Beetle Plastics is a subsidiary of Midwest Towers, Inc., a world-class manufacturer of evaporative water cooling towers. Beetle Plastics' operations include its headquarters and plant facilities in Ardmore, Oklahoma, and a nationwide network of sales and representative offices.
As a part of Midwest Towers, it was content for many years supplying the components for cooling tower projects sold by the parent company. President Larry Brown knew the firm needed to branch out and find more direct customers for Beetle Plastics. So when he read an article in Composites magazine about inbound marketing, he was confident that he now had a method to help him do just that.
In early July 2012, Beetle signed up for HubSpot and hired Top Line Results to guide their inbound marketing efforts. The initial goal was simple—work with Beetle professionals assisting them to translate their fiberglass expertise in to web content that would attract high-quality prospects and help to convert them into happy customers.
Our plan was simple, we focused on three keys things:
Optimize the web site for long tail keywords
Create calls to action and landing pages for existing content to drive conversions
Create new content targeting ideal prospects
During the first 30 days of the project we developed keyword sets based on end products, vertical markets, and specific solutions. By using this format, we were able to speak very directly to site visitors. Previously Beetle Plastics, as well as all of their competitors, were using high level, general keywords like:
The end results was that there was significant competition for these keywords as well as no differentiation in the searches. A search for 'fiberglass tanks' would yield results for small tank for animals all the way up to large industrial tanks. By narrowing the keyword focus, we were sure that the quality and quantity of traffic would increase.
Our new keyword sets came out as:
Next, we took existing content bundled it up as valuable downloads and created calls to action, landing pages, and thank you pages. However we were still facing two major obstacles with respect to quantifiable results. Number one, the site was generating a low level of visits and number two, it was not producing any leads.
Potential leads were visiting the site, but very few were converting. This was primarily due to a lack of conversion opportunities. For example, potential customers only were given the option to 'contact us' or 'request a quote.' Using existing content, we created an engineering catalog targeting top of the funnel visitors looking for information on using custom fiberglass as a building material.
Finally, we embarked on a multi-faceted, aggressive content creation campaign. The campaign was tailored to address the needs of a variety of vertical industries and a large line of custom solutions. We developed technical stories relating to chemicals and fiberglass resins. Most importantly, we wanted to incorporate the benefits of Beetle's end products and how fiberglass construction materials and custom products solve difficult industrial problems like chemical handling and storage harsh environments.
The intent was to position Beetle Plastics in the composites fabrication world as a thought leader and progressive thinking company. Content ranged from regular blog posts to case studies to whitepapers.
Our goals for the marketing projects were to:
Significantly increase traffic from the <10 visits per day starting point
Drive leads from ideal target prospects
Increase the credibility of Beetle Plastics and assist in driving leads through the buying process
Contribute to a significant increase in sales
After almost one year the results are clear: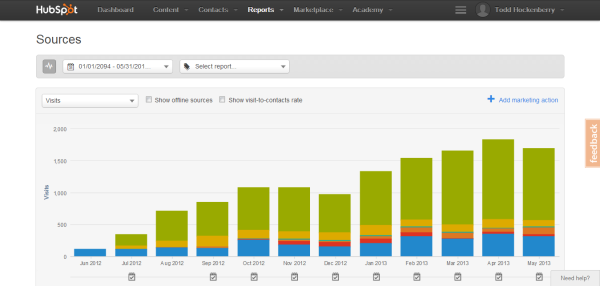 Credibility can be tough to measure, but in August of 2012 Beetle Plastics landed a very large project from a South American firm and using HubSpot we were able to see how often the engineers and decision makers from this company were using and interacting with the web site. "Our salespeople closed the business but our web site was certainly a huge help in building our case and enhancing our credibility with the customer and in winning the business" says Mr. Brown.
Beetle Plastics' use of inbound marketing is steadily expanding their reach into end users of fiberglass products and, more importantly, engineering and design firms that design, specify, and oversee construction materials purchase and large construction projects. "We are opening doors for our engineers and team of experts that traditional sales approaches would not open. By focusing on the builders' needs and solutions they are looking for, we are more often seen as the experts in our field and are being sought out as the expert. Our solution-based content is very attractive to our target engineer prospect and our website and the inbound marketing methodology give us the tools to be there when they are looking online" says Mr. Brown.
Was the investment worth it?
"We grew Beetle Plastics by over 20% since we started our inbound marketing project and we feel like we are just getting started," states Mr. Brown.