Most companies that resell products suck at marketing. In the IT and industrial markets, resellers have existing relationships with clients that enable manufacturers to get their products to market. But, these resellers sell and market the old fashioned way: brochures and 1:1 sales conversations. They generally don't practice scale-able marketing methods, especially online marketing, very well. On the other hand, HubSpot resellers excel at generating demand via inbound marketing. As they should. They are inbound marketing agencies, after all.
We've been doing a lot of analysis in the last few months at HubSpot, in order to figure out the growth channels that will help HubSpot scale from 10s of thousands of customers to 100s of thousands of customers one day. The graph below shows what our different funnels look like.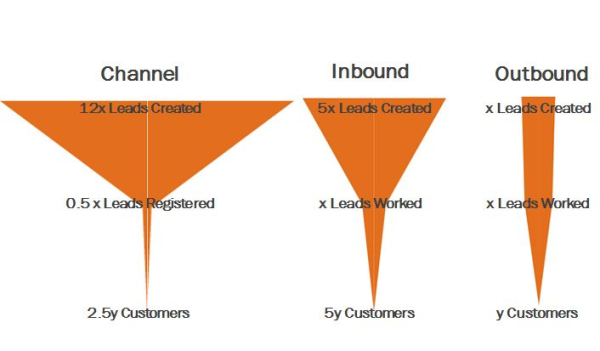 As the graph shows, HubSpot goes to market in 3 different ways. We have an outbound sales team that calls perfect fit customers who haven't found us yet. We, of course, have an inbound sales team that calls the leads our marketing team generates. We have a channel sales team who works with our agency partners/resellers to acquire mutual clients/customers.
Before you read on, take a look at the graph and ask yourself, "What does the data tell us?". (I removed the absolute numbers and the 'conversion rate from lead worked to customers' from the graph. But, I set up the ratios so that you could accurately compare the channels.)
Outbound vs Inbound
As you can see from the graph, our inbound and outbound teams work the same amount of leads, x. Yet, the inbound marketing team produces 5x the number of customers from that same volume of leads. It's a testament to the sales efficiency that is enabled when prospects are attracted to a company, as opposed to being approached by the company.
On the flip side, marketing must generate 5x leads in order to create x workable leads. Unfortunately, not everyone who converts on our website is ready to do inbound marketing.
Inbound vs Channel
Our agency partners who resell our product usually use our product for their own inbound marketing. Therefore, we - unlike most channel sales programs - know how many leads they generate and how many permission-based contacts that they upload. On a monthly basis, our partners have collectively added 12/5ths of the contacts to their HubSpot powered marketing databases than our marketing team adds, or 12x the volume of leads our outbound team works. Despite this extremely large top of the funnel that our partners create in aggregate every month, they register less than half the volume of leads that our outbound team works. When compared to our inbound sales team, which works 20% of the leads that our marketing team generates, our partners only try to resell HubSpot to less than 5% of their contacts. Nonetheless, of the leads they register, they convert the same percentage to customers as our inbound sales team does. In conclusion, their sales conversion rates are equivalent to our inbound sales team. But, they do a comparatively poor job of turning leads into sales opportunities.
How Would You Capitalize on this Demand?
In aggregate, our partners have created massive unfulfilled demand for their services. Further, their bottom of the funnel sales conversion rates are equivalent (or better) than HubSpot's internal teams. While I didn't share this data in this article, client retention amongst our agency partners is also very strong. But, as discussed, the top of the funnel sales conversion rate is much lower than Hubspot's internal teams.
If you're a HubSpot partner, what do you plan to do differently after seeing this data? If you were HubSpot, what would you do to help your partners generate more revenue from the demand they've created?