Editor's note: This article was written by Melanie Collins (@MelanieCollins1), Business Development Manager for Media Company Partnerships @HubSpot. She's leading our effort to help media companies transform their advertising services into marketing and advertising services that people love.
When HubSpot was created 6 years ago, it was founded to help businesses do inbound marketing. Rather than spending most of their marketing budget on outbound marketing tactics - like telemarketing, direct mail, email, banner ads and traditional ads like TV, radio, newspaper and magazine ads - inbound marketers attract visitors, convert visitors to leads and sales, and analyze data to identify ways to increase traffic, leads and sales over time. Whereas outbound marketing reaches people who may or may not be interested in your product, inbound marketing helps your business get found by people who have an interest in exactly what your business has to offer. Businesses that have figured out how to use the internet to "get found" by potential customers and then convert them to customers, are shifting their marketing budgets to inbound away from traditional advertising. This shift is taking a big toll on traditional media companies.

How big of an impact? The traditional media outlook for 2013 is drab at best, with local radio, cable TV, local TV, newspaper and OOH only receiving between a 3% and 11% share of local media marketing dollars. Of all of these, local radio will see the biggest decline in revenue compared to 2012 with a loss of 5.9%. (Source: Borrell Associates 2013 Local Advertising Outlook)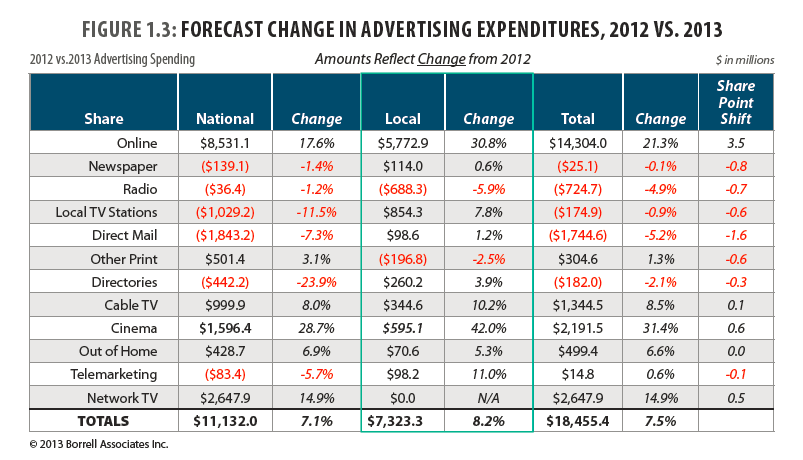 Declines in share and losses in revenue are forcing leadership at traditional media companies to face their challenges head on. As I speak with more and more consultants, General Managers, General Sales Managers and Directors of Sales these are the biggest challenges in need of solutions:

1. Lack of Warm leads
Trends indicate that local media's projected ad growth will come from brand new business in 2013. The problem is sales reps are chasing existing dollars in their markets. Since most local media companies don't have a dedicated marketing or sales person helping to generate new, high quality leads, sales reps are left with one option to drum up new business -- cold calling. If you're in the business, you know that scribbling down that new advertiser you see in the newspaper or on a billboard and calling them up, is getting less and less effective these days.

2. Inconsistent Customer Revenue
Not only are sales teams constantly chasing existing advertisers, they're constantly chasing the same sales too. Inconsistent ratings, circulation numbers and viewership make insertion orders commonplace and annual buys few and far between. Forecasting revenue with a larger and growing portion of one-time-buys is nearly impossible. Worse still, media companies know marketing dollars are being spent elsewhere in the market... But, they haven't figured out how to capture a larger portion of their client's marketing budgets.


3. No differentiation From Other Media Companies
The good news is money is being placed in local media, in fact close to $96 billion will be spent on local media in the US in 2013. Online is forecasted to take a 25.4 % share, newspaper 18.6%, TV 12.3% and radio 11.4%. (Source: Borrell Associates 2013 Local Advertising Outlook) But in order for media companies to win their fair share of the dollars that are being placed in market, they must be able to provide a distinct value between what their ad programs deliver vs. that of their competitors. Here's why.
Let's say you're a sales manager at a radio station in Boston, MA and one of your reps is trying to win new business from the owner of XYZ Granite Company. The owner told your sales rep that he needs to reach contractors who buy in bulk and you're about to pitch why your station is the right choice. During your meeting he tells you that he's already met with two other radio stations, two newspapers and TV station. He asks you, "Can I reach contractors by working with you and what makes your station different from all the other options out there?"
What's your answer? That your demo is M25-54 and that you have the highest ratings in the market? Do you tell him that you created a spot for a local lumber company with a message that targeted contractors and that lumber company is now a longstanding client of the station? Do you tell him that the Red Sox tickets you can give him as a result of his spend is what makes you different from the other media companies?
A week later your rep follows up only to find out that your station didn't win the business and neither did the other radio stations, newspapers or TV station. It turns out that the owner, frustrated because none of the media companies he met with could help him reach his target audience, took his budget and bought a skyscraper ad on a regional trade pub website. His reason was that even though the website had a small audience of builders and contractors, it was the exact audience he needed to reach and he could tell how many people ultimately clicked on the ad. As the media company you lose out on the new revenue because you weren't able to differentiate exactly how you could help connect this business to its target audience. In reality, there are a lot of ways you can help him...you just may not know how.

4. Losing Money to Online Advertising & Marketing Services
The biggest growth area in local media this year will be in online marketing, growing 31% from 2012 representing a little more than $24 billion. Newspapers, radio stations, cable TV, local TV, direct mail and OOH continue to lose share because their clients are investing dollars that they used to spend in traditional. The money is being reallocated to SEO, email, PPC, banner advertising and other online ad services that generate website traffic -- which is ultimately where potential customers do their research before they buy. As a result, online seemingly becomes more measurable and successful for business owners. Sure traditional media companies sell online inventory that competes with alternative online channels, but traditional media companies find that revenue isn't predictable, it yields small margins, sales reps don't always understand how to sell it competitively and it ultimately can't be bundled to drive up the average cost per IO as media companies had once hoped.
It's been fight or flight for traditional media in recent years and the near defeat is causing traditional media companies to recognize the challenges they are facing. The Center for Sales Strategy's Matt Sunshine consults with traditional media companies to help them overcome these challenges. "Lead generation at media companies is flat out broken which results in sales people meeting with unqualified prospects. There are more people selling than there are buying and that's got to change," says Sunshine.
The conversation reaches even further with Seth Godin addressing the fate of local media companies at an upcoming conference in March. His take is that if local media companies can find their clients connections within their communities -- and also nurture those connections -- then the challenges facing local media companies will turn into their greatest opportunity.
What do you think the fate of traditional media companies is? Which of these problems are you seeing? What other problems do you see? What are the solutions?