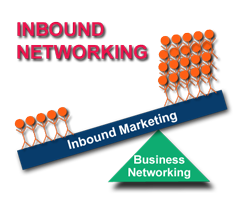 Mary Planding, owner of Inbound Marketing Squad (@inboundsquad), told me today that she's attended 10 small business networking meetings in the last several weeks. She's sharing the concept of inbound networking with the people she meets.
As a result of her conversations, she's refined her explanation of inbound networking: the why's and the how's. Similar to High Mobley's guest post last week, she's written an excellent article about why very small business owners (VSBO) should join an inbound networking group.
Here's some excerpts:
"Most VSBOs rely on word-of-mouth referrals for the bulk of their business. They also admit those referrals aren't enough to grow their business to the level they want or need."
"How can you leverage the power of a marketing agency's expertise to grow your business without going broke? How can you take advantage of the most cost-effective marketing strategies out there, without having to become a full-time marketing guru?"
"When the power of inbound marketing is combined with the reach of business networking, you get — inbound networking."
Instead of going for it all by yourself — imagine being an active member of a content rich website focused on the ideal buyer you're trying to reach. Imagine that the other chosen members of this content rich website have complimentary, non-competing businesses.
Each of you regularly: contributes content to this website, shares one another's content with your social networks, and cross-promotes each other's products and services.
I believe Mary has put together the best explanation and business case yet for inbound networking. Not to mention a cool graphic. (See above.) Go read the entire article. Also notice the call to action and the application form she created, so businesses can apply to be a member of one of her groups. Nice inbound marketing, Mary!