As Director of HubSpot's Partner Program for Agencies, I have the pleasure of working with lots of great marketing agencies.
In the past six months, one relatively new partner has done extremely well. Based on their marketing and sales success in the last few months, I asked Bob Ruffolo, CEO of IMPACT Branding & Design, if I could interview him and share some of his secrets to success. In the past 6 months, his team has accomplished the following feats:
Grown traffic 7x to 14,000 visits/month.
Grown leads 9x to 450 leads/month.
Switched the majority of his clients from one time project clients to recurring revenue retainer clients.
Acquired 6 new retainer clients from inbound leads.
IMPACT is an 11 person inbound marketing agency, founded in 2009, based in Wallingford, CT. The following is what I've learned from talking with Ruffolo.
Blog Consistently
As inbound marketers know, blogging has become an essential tool for attracting more and more traffic and leads over time. Not only will blogging generate more indexed pages for the search engines and attract inbound links to help increase search engine authority for a site, but it also provides shareable content to help attract followers and traffic from social media sites. However, this can't be achieved without high blog frequency. IMPACT has been publishing blog posts every day for the past six months and has attracted over 300 new blog subscribers in less than six months, as can be seen in the graph below.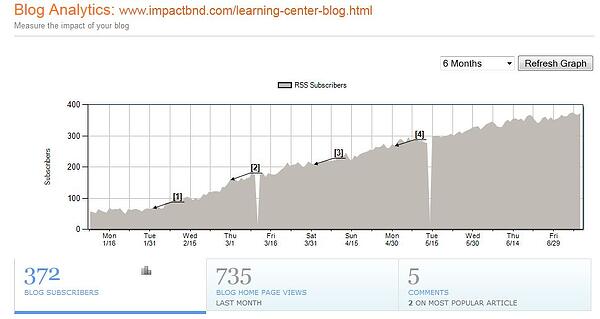 Blogging consistently is only half of the battle according to Ruffolo. In order for blog articles to be optimized for the search engines and social media, they've invested time in coming up with powerful blog titles that are designed to attract attention. This means carefully integrating keywords and phrases into the titles for search engine optimization and catchy titles that make the content more share-worthy via social media. It also means including calls-to-action on each blog post, so that each post generates leads.
Build Lots of Offers and Landing Pages
As soon as Bob's team started their inbound marketing, they committed to creating lots of offers. While the blog is the engine for traffic acquisition, offers and landing pages have been key for lead generation. Knowing that most site visitors aren't ready to talk to a company about hiring them, they spent time creating a variety of offers that appeal to visitors at all stages of their research and buying process. Once the offer is created, the next step is creating a lead generating landing page that entices visitors to submit their contact information, thereby becoming a lead. "They need to feel as if they're missing out on a great opportunity if they don't download the offer," said Ruffolo.
IMPACT has created 4 different types of offers: ebooks, whitepapers, free demos and free consultations. IMPACT has seen a high visit to lead conversion rate for the landing pages where they give away their ebooks and whitepapers, when compared to the conversion rates achieved on their demo and consultation request landing pages. While they've also acquired new clients via their ebooks and whitepapers, their biggest new client came directly from a consultation offer. Below is a screenshot of a landing page with an ebook offer.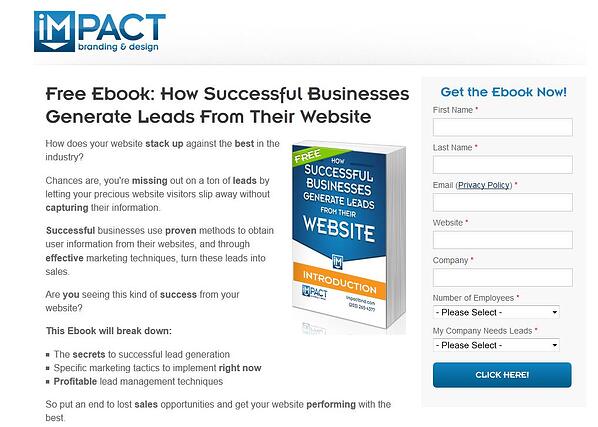 Promote Offers via Website, Blogs, Social Media & Email
Impact continuously promotes more than 50 landing pages, and has improved overall submission rate to 25% last month, meaning 1 out of 4 people who view one of their landing pages, completes the form and becomes a contact in their marketing database. IMPACT has been successful promoting their offers because they promote them continuously through multiple channels including: their website pages, blog posts, social media, email marketing and even networking events and tradeshows. By promoting offers daily, IMPACT has generated over 200 leads in a 6-month period from Twitter alone. Blogs have been another effective resource for promoting their offers as well. They also employ email signatures and email campaigns, driving traffic to their offers, helping to further nurture and educate their contacts. And while email blasts are effective in generating leads, this method should be approached with caution. After promoting some demo and consultation offers via email, Ruffolo discovered that promoting offers through email has proven to be effective as long as the offers are educational. Below, you can see the variety of landing pages and offers that have strong visit-to-lead conversion rates. Because they have high conversion rates, IMPACT promotes these offers more frequently.

Analyze for Continuous Improvement
According to Ruffolo, one of the best methods for generating effective offers is to analyze what's already working. Through HubSpot's software, Ruffolo and his team continuously track and measure the success of their landing pages and blog articles. They closely track which traffic source and marketing tactic produce the best leads and new clients, using the Sources report in their HubSpot portal. Below is a screenshot of their data from that report.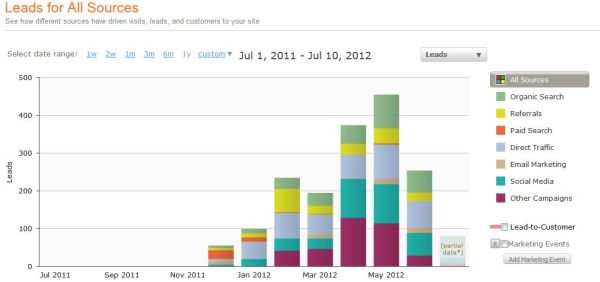 IMPACT reviews data for each activity they do, especially each blog post and each offer. Choosing blog articles to write is a simple process. They look at which ones are getting the most views and write more articles that are similar in style and topic to those. Landing page conversions require a little more thought and creativity. The IMPACT team is constantly reviewing their landing page conversions to determine which are doing great and which may need a little tweaking to reach peak performance. In the past six months alone, IMPACT landing pages have generated 2,827 leads from a total of 14,812 views, good for about a 20% conversion rate. Overall, as can be seen from the screenshot above, IMPACT now generates 400+ leads per month through their website.
Align Sales with Marketing
In order to develop an effective marketing plan, IMPACT has learned that it's critical to trace every sale back to the marketing activities that generated and nurtured the opportunity. Ruffolo says he works hard to integrate the marketing and sales process, as it enables his team to shift their marketing focus to the right channels.

It's equally important to trace a lead's website activity and how it relates to the sales process. Ruffolo also shared with us a behind-the-scenes look at his sales process. "Kevin Linehan, our channel account manager from HubSpot, helped me set up the customer settings needed to successfully integrate HubSpot and Salesforce," said Ruffolo. "I was then able to see new leads as they came in, what offers they converted upon, pages they viewed and when and how often they revisit our site. This has helped me prioritize my sales efforts on the best leads and given me great data to improve my connect rate."
IMPACT also uses automated lead nurturing to move leads into a buying process more effectively. After modifying its lead nurturing campaign based on click through rates and close rates, IMPACT generated more sales ready leads, making Ruffolo's sales efforts even more productive. Ruffolo indicated that his team went through a process of categorizing all of their offers, so they could correlate what stage of the buying cycle someone would be if they downloaded it. From there, it was easier to identify what message to send to get the lead to re-convert and become a more educated, more sales ready lead. "All of our lead nurturing emails were aimed at pushing them further down the sales funnel," said Ruffolo. "We found that after two or three conversions, our leads were coming through a lot more sales ready."
Ruffolo added that as his team went through some of their more advanced offers, the forms on the landing pages got longer as a result. "We were capturing more information," said Ruffolo. "We added a question to determine whether they needed a service like ours and also a field that asked them how many employees work at their company. If their company needs our services and had 50 to 200 employees, we followed up quickly and persistently in order to schedule a conversation."


Adopt a Consultative Sales Process
Once a sales-ready lead was generated, a member of the IMPACT team is tasked with reaching out and connecting. If they did not connect on the first dial, they stay persistent, employing a BASHO sequence, which consists of continuous voicemails and emails. Once that connection is made, an Inbound Marketing Assessment (IMA) is scheduled, where the goals, challenges, timeline, and budget are discussed, among other things. "We know that we've completely qualified the opportunity when the opportunity believes we can help them solve their problems and achieve their goals. We don't move on to our next step until we've accomplished that," said Ruffolo.
The next step usually consists of a demonstration of the inbound marketing methodology and HubSpot, where Ruffolo would highlight the inbound marketing process and also educate the prospect on how IMPACT's services will help them overcome their challenges and achieve their goals. From there, responsibilities of both parties are clearly defined, and a customized program is created that caters to clients specific needs. Once the agreement is signed, the IMPACT team goes to work.
The Results
In the month of May alone, IMPACT brought on five new retainer clients. Implementing inbound marketing and a needs-based sales process has helped IMPACT grow recurring revenue by over 350% in a six-month span.
One story, Ruffolo enjoyed telling me was about a recent client addition. After going through the entire sales process, the prospect indicated that while it all sounded great, he just couldn't afford it at the moment. Three months later, the prospect called back and was ready to get started. "Within one meeting, we had a contract and were ready to get started," said Ruffolo. "That proves that inbound lead generation and the retainer sales process really works."

Another recent client that just began working with IMPACT, started from an inbound call. The prospect called IMPACT and after talking with Ruffolo, told him that he had received a quote from another firm, but decided not to hire them. The other agency had included an infographic about inbound marketing in their proposal that was originally created and published by IMPACT. The prospect said that he'd rather work with the "inbound marketing expert" who created it. They then hired IMPACT.
Ruffolo is extremely thankful for his success to date. He exhibits an uncommon humility for a business owner who has achieved rapid success in a short amount of time. I'm particularly impressed with his ability to take training and coaching and execute on a plan flawlessly. While we've provided a roadmap for IMPACT to follow via HubSpot's program for agencies, Ruffolo and his team have picked it up and applied faster and better than anyone else I've seen recently. When talking to him again last Friday, I learned more about the next steps for his firm: he's adding staff, focusing on producing successful results for clients, and continuing to analyze and improve his sales, marketing and services delivery processes. I'm sure I'll be interviewing Ruffolo again. Until then, I'd recommend watching IMPACT closely. I expect great things.