I've moved my blog over to the
Hubspot Internet Marketing platform
. I was using typepad, which has pretty much useless web analytics. Hubspot's analytics are exactly what a marketer needs. Hubspot marketing analytics ranks keywords by the number of visits and leads each term attracts, making it real easy for marketers to see which keywords generate leads.
The funny thing about my blog is that there are about 4 posts (out of 2200) that attract a disproportionate amount of traffic. And those 4 are not related to internet marketing. They are all posts that were "That's funny. I think I'll post about that" posts. Despite their direct irrelevance, there's an internet marketing lesson in disguise here.
One of the posts was about buying and selling breast milk.
(I'll link to it, once my blog posts are moved over to Hubspot.)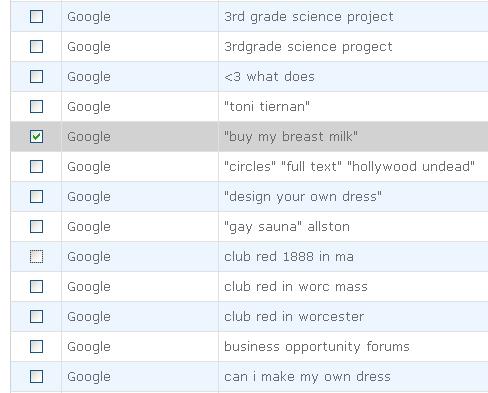 Then, this morning, I received an email from my wife, by way of Jennette Frem at
Mothers & Company
. The email asked us to vote for
Mother's Milk Bank of New England
to win a
$10k business startup competition
at
Ideablob
(
Ideablob profile at Mashable
). The milk bank's goal is to
collect breast milk and donate it to premature babies
. (Certainly a very worthy cause. Both my wife and I voted. So should you.)
Whew! That was a lot of background. What's the internet marketing lesson in disguise? There's too many. But, the main one is...
The Milk Bank should do a little
keyword research
. Based on my web analytics, I think they might find that there's a lot of demand for a milk marketplace where people can buy and sell. A marketplace might create the kind of market liquidity (no pun intended) necessary to finance purchase of the equipment needed to pasteurize milk and even fund ongoing operations. I now know from first hand experience that breastfeeding has numerous health benefits for babies. And many mothers have difficulty breastfeeding. I also have heard of mothers who produce more milk than their babies can handle. Despite the high price of formula, I bet that the number of babies being fed with formula is at a record high. If there were a way to buy SAFE breastmilk, I bet it'd be a best seller.