10 marketing agencies have been contributing 1 blog post per month to this blog for 3 months. Additionally, in recent months, I've been posting several times per month.
My theory of inbound networking is that when like-minded companies market their businesses collaboratively, they'll all benefit more. We're still at the very early stages of proving that out. Below is some encouraging data, though.
The first graph below is from this website's HubSpot dashboard. It shows the traffic generated this month compared to the last 3 month's running average.

As you can see, traffic is way up this month. It's up 60% actually. But, that's not the only conclusion to make. As you can see in the chart, traffic rose significantly from December 8th to Dec 18th. We published 11 posts over that period and only 3 posts during the rest of the days in December. So, as the post title says, blogging frequency correlates well to traffic growth.
Why does traffic grow with more frequent blogging, though?
The graph below is the HubSpot Sources report for this website. For those that don't know, the Sources report shows the traffic, leads and sales that a company is generating from their web presence over time, and clearly shows the source of each visit. This particular view of the report shows the number of visits over a 4 month period.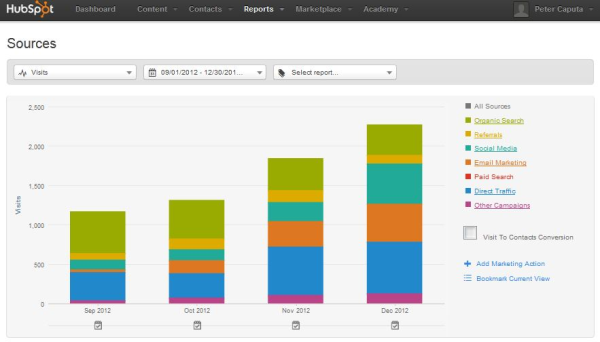 By examining the color of the bars in the graph above, we can see that more traffic is coming from more types of sources. In other words, traffic diversity is much higher. Specifically, we see that direct traffic (blue), social media traffic (teal) and email marketing traffic (orange) rose steadily over the last 3 months. Why?
Email traffic is higher because many people subscribe to this blog by email.
Social media traffic is higher because there is more content to share and since we're a group of 10, there are more people to share it.
PS. This is just a small test in a short period of time. But, as all of the contributors to this blog can tell you, this isn't the first time we've seen this. If you're looking for more proof, download this ebook where HubSpot analyzed blogging and traffic data from 7,000 customers. Kuno Creative has published several posts with data correlating blogging frequency to traffic growth. Here's a few: Blogging ROI, How Often Should You Blog, And Blogging Frequency Impacting Marketing Automation. Here's traffic and subscriber growth data from Impact Branding, who blogs very frequently.
Growing online traffic is this simple. Why aren't you blogging more?