HubSpot launched a new feature last month via a Google Chrome extension. Now, when you're navigating Twitter, you can see which of your twitter followers are also in your HubSpot powered contact database. In the screen grab from Twitter.com below, you can see the highlighted text that says, "View in HubSpot."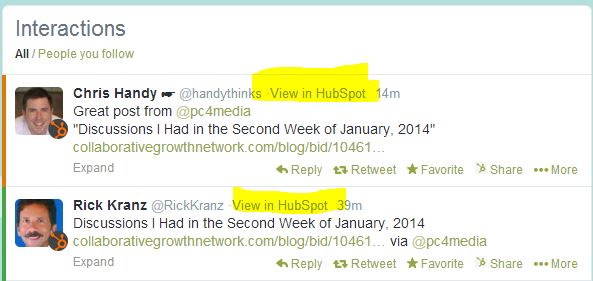 With HubSpot's social media monitoring and publishing tools, there's not a lot of reason to visit Twitter, except for browsing around. But, I tend to use Twitter by visiting Twitter.com. So, this is a cool way to see which of my twitter contacts are in my HubSpot portal. When I click on the "View in HubSpot" button, I can see much more about each contact. For example, below is a screen capture of Rick's profile from my HubSpot portal. In my HubSpot portal, I can see much more about Rick including: what pages he's viewed on my site; what he's shared with me previously via forms on my site; and information I entered into HubSpot (or my CRM) about him.
As a salesperson, I can see how this could help me connect with people on Twitter at the right time with the right message on (or off) Twitter - by using the information I have about them in my HubSpot contact database. With it being one click away, I'm much more likely to go through the effort.
You can read about this feature and learn how to set it up on this support article from HubSpot.